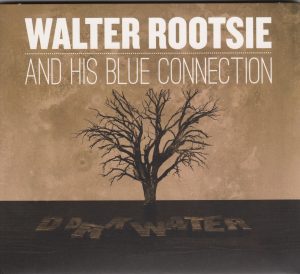 International PRESS REVIEWS DARK WATER
PRESS
In the meantime the band
has received international highly rated reviews for their new cd and some
airplay all over Europe.
Rootstime, Belgium:
"Here's our opinion about the music and the songs on the album
'Darkwater' from 'Walter Rootsie And His Blue Connection': just splendid, very
exciting, with a tremendous variation in songs and music styles and providing
pure entertainment for all fans of good music." – www.rootstime.be
Luckydice, Netherland:
Treffend werd Dark Water als titel gekozen, de metafoor voor het
onbekende, het duistere en beangstigende in het leven. Het werd een album vol
heerlijke americana rootsmuziek met soul, vuige blues zoals in het naar de Red
Devils ruikende Criminal in Grain maar ook stompende en groovende New Orleans
klanken op Down The Line. Op Get Alive waan je je in een bluesbar op
Bealestreet in Memphis en dan heb ik het nog niet eens gehad over onze
favoriete song: de uiterst radiogevoelige rootspop opener Running Down Slow.
Het heeft een heerlijk golvend orgeltje van Mike Roelofs en een zeer
aanstekelijk koortje in de achtergrond wat je maar niet uit je hoofd kunt
krijgen. Ik snap dus wel, dat iets of iemand deze heren en hun duivels lekkere
muziek tegen probeerde te houden…Gelukkig voor ons is ze dat alleen niet
gelukt! (Sandra Zuidema) www.Luckydice.nl
Billybop.be:
On Dark Water, Walter Rootsie and his Blue
connection brings you fourteen great tracks that are best described as roots
rock. Maybe a PR man would love the moniker Americana better but I think that
Roots Rock serves the music better. Musically the band creates a sound that is
heavily inspired by the blues but it offers more then simply blues music, hence
the moniker Roots Rock. A good Hammond Organ, some blues harp, slide guitar and
some other great key points make from this album a much wanted release. Take a
good listen to songs like "Running Down Slow", "Hotel Dakota", the poppy "Bad
Dream" or "You Worry" and you will immediately agree that Dark Water has a lot
to offer to each of us. http://www.billybop.be/admin/CDdetail.asp?ID=11539
Folkworld, Germany
Walter "Rootsie" Hopmanns (Gesang, Gitarre, Perkussion) hat mit seiner holländisch-finnischen Band bestehend aus Anssi Lehtvuori (Drums, Perkussion), Pete Bergmann (Bass) und Pasi Saharinen (Gitarren, Dobro) sein zweites Album aufgenommen. Zu den Aufnahmen in Finnland und Holland hat er eine Reihe von Gastmusikern an den Keyboards, zusätzlichen Gitarren, Banjo, Bass, Mundharmonika und Saxophon eingeladen.
Es beginnt mit dem rockigen Americana "Running down slow", Hammond B3 (Mike Roelofs), gefühlvollem Gesang und einem perfektem Arrangement. Pasi spielt das Dobro und Tommi Laine übernimmt E-Gitarre und Slide bei "Motel Dakota", dazu singt Walter mit kräftiger Blues Stimme. "Criminal in grain" besticht mit treibendem Gitarren-Bass-Drums Pace, Ben Boumans Mundharmonika und großartigem Gesang, mein Lieblingssong. Neben den rhythmischen Songs gibt es auch ein paar stille Songs zu hören, "Heard silence" ist ein Schmusesong mit Saxophon, Wurlitzer und schnulzigem Gesang, aber gut gemacht. Weitere Höhepunkte sind der Titelsong im treibenden Bluegrass Rhythmus mit Banjo, Dobro, Gitarren, Kontrabass und Mundharmonika und "Get alive", ein mitreißender Rock'n'Roll mit Boogie Woogie Piano (Harri Saarnio), Mundharmonika und tollem Gesang.
Walter Rootsie hat ein tolles Album aufgenommen, irgendwo zwischen Americana, Rock und Pop. Die Songs sind abwechslungsreich arrangiert und die hervorragenden Musiker vertonen sie virtuos.
© Adolf "gorhand" Goriup
TMM, Serbia (Servië):
"Dark Water" are consists of 14 tracks in,
released in roots, rock, americana, blues manner, with evident southern
emotionals, good singin', and respectable playings. One evidental narrative
approach is present in his tunes, and each of the songs posses a strong
arrangments includings, and well-done production."Dark Water" is also a pretty
listenable product, without a weacker places.
http://www.timemachinemusic.org/2013/03/walter-rootsie-and-his-blue-connection-darkwater/
Bealestreet, Belgium ****stars :
http://bealestreet.be/index.php?option=com_content&view=article&id=826&Itemid=759
"Dark Water" is via bemiddeling van Peter Holmstedt ( Hemifran) mijn eerste
kennismaking met Walter "Rootsie" Hopmans en dat mag gerust beschouwd
worden als een leuke verrassing. De uit Goes (Nl) afkomstige singer -songwriter heeft blijkbaar al jaren zijn vaste stek gevonden in Finland en danverwacht je dat een muzikant zich er bekeerd tot het welig tierend rockabillygebeuren. Mis poes, Walter Rootsie & his Blue Connection nestelen zich met de opener "Running Down Slow" en "Bad Dream" volgens mijn bescheiden mening in het sfeerrijke verleden van Brendan Crocker & the Five O' Clock Shadows en linkt met "Look Around", "Motel Dakota" en de (h)eerlijke streep dobro naar de beginjaren van John Hiatt .
"Criminal in Grain" begint met een zachtjes tikt de regen op mijn vensterraam maar mondt net als "I Said 1,2,3,4,5 Get Alive"uit in een fiks bluesy prijsnummer waarbij gitaren, Hammond B3 organ en harmonica
duelleren voor de oppergaai. "Heard Silence" – met blazers –situeert zich in de betere Rhythm & Blues / Soul middens, titeltrack "Dark Water" trekt een kleurrijk bluegrassjasje aan en in het gezelschap van een
lekker klinkende slide gitaar wordt Rootsie's "Down the Line" automatisch gekoppeld aan Thorogood's who do you love ? Walter Rootsie and his Blue Connection …een leuke muzikale kruisbestuiving tussen creatieve geesten !
Rocktimes.de:
Der Holländer Walter 'Rootsie' Hopmans war sehr viel in Spanien und Finnland unterwegs, bevor er sich 1993 der Amsterdamer Band Geronimo anschloss und dort acht Jahre lang Mitglied war. Darauf begann er, seine eigenen Songs zu schreiben, ging zurück nach Finnland und gründete dort 2003 seine erste eigene Band The Backboners, die etwas später in The Blue Connection umbenannt wurde. Im Jahr 2007 erschien das Debütalbum "Get Up And Go", das er mit seinen finnischen Freunden vor allem in seinem und deren Heimatland betourte.
Unmittelbar danach wurde er allerdings von gesundheitlichen Problemen ziemlich aus der Bahn geworfen. Wieder erholt wurden erstmal jede Menge Soloshows gespielt, bis er seine Bandkollegen schließlich erneut zusammenrief, um das zweite Album, das mir jetzt vorliegende "Dark Water" aufzunehmen, das bereits im Januar dieses Jahres veröffentlicht wurde. An Quantität wurde nicht gegeizt, was man unschwer an 14 vorhandenen Tracks mit einer Spielzeit von mehr als 66 Minuten feststellen kann. Nehmen wir diese Chose also mal etwas genauer unter die Lupe.
Sehr flott und beschwingt eröffnet "Running Down Slow" die Scheibe. Eine coole, sehr eingängige Gesangsmelodie, die im Refrain von Walters eigenen Background Vocals unterstützt wird, macht ebenso viel her, wie der erdige Sound der Nummer. Bei "Motel Dakota" hat man dann allerdings das Gefühl, es irgendwie schon mal (mit anderen Stimmen und anderem Text) gehört zu haben. Dennoch geht es auch hier unbeirrt geradeaus und das Stück findet Anerkennung. "Heard Silence" ist eine Soul-Ballade im Stil der sechziger Jahre, die der Protagonist allerdings stimmlich nicht ganz so soulig zu performen in der Lage ist.
Klasse gespielt ist das alles und besonders heiß wird es, wenn Pasi Saharinen an der elektrischen und Slide-Gitarre das Feld für Soli überlassen wird. Aber auch Mike Roelofs weiß an der Hammond und am Wurlitzer Piano deutliche Akzente zu setzen und zu überzeugen. Ein Klasse-Song ist "Look Around", bei dem jeder einzelne der Beteiligten zu brennen scheint. Der Titelsong ist eine lupenreine Country-Nummer bzw. ein leicht abgedrehtes Hillbilly-Stück, bei dem es im positivsten Sinne des Wortes drunter und drüber geht. Ja, Freunde, so macht das Spaß!
Das kommt schon alles ganz gut. Was "Dark Water" aber letztendlich fehlt, ist ein Stückchen mehr Originalität. Bei ein paar Titeln zu viel schleicht sich heimlich, still und leise der Verdacht ein, dass zu gerne auf bewährte Formeln, Abläufe und Arrangements zurückgegriffen wird, anstatt neue Wege beschreiten zu wollen. Gegen Ende der Scheibe sind dann aber mit "Billy Boys Game", "Get Alive" und "Two Headed Monster" wieder sehr gelungene Tracks platziert, die das zweite Album dieser Formation versöhnlich ausklingen lassen.
CD Universe: http://www.cduniverse.com/review.asp?PID=8917150&style=music&action=showall
Stereosun magazin, Serbia: http://stereo-sun.blogspot.nl/2013/03/walter-rootsie-and-his-blue-connection.html
Roots highway, Italy: http://www.rootshighway.it/Shortcuts/shortarc193.htm
Ikon Magazine, Sweden ****stars : http://ikon1931.se/recensioner/synnerligen-angenamnt
Alt. Country magazine, Belgium: http://www.ctrlaltcountry.be/
Hifi City, Hungary: http://www.hificity.hu/cikk.php?ident=7899
Folkworld Magazin, Germany: http://www.folkworld.eu/51/d/cds3.html
Amazon.FR : https://www.amazon.fr/DARK-WATER-WALTER-ROOTSIE/product-reviews/B00F1WX9K0/ref=dpx_acr_txt?showViewpoints=1
Keys and Chords Magazine: http://keysandchordsarchives.weebly.com/cd-reviews-15.html
Artist Trove : http://www.artisttrove.com/artist/214584195241083/Walter+Rootsie+and+his+Blue+Connection
THE STORY ABOUT DARK WATER
Walter Rootsie and his Blue Connection – Dark Water (Wraf Records © 2013)
What original should have been the second regular band album became a long music project influenced with the life events of the band members. Walter was not the only one who experienced health problems. Their original bass player Pete Bergman had to be replaced for the pre-recording sessions due to a serious illness and guitarist Parska Saharinen fell down from a high stage and broke his shoulder and had to be replaced temporarily during the definite recording sessions. In the end it made "Darkwater" a better album because all this setbacks were translated into the music so "Darkwater" is also about setbacks in life and how to overcome them. Many Finnish musicians played first their musical parts in the 5by5 studio, Helsinki and after his recovery Parska added his part later. The second phase began at the Stable Studio at Arnhem, Holland. There all the additional music parts from great Dutch musicians were added to the master tape. The mixing and mastering was done by Roel Toering, an experienced and specialized sound engineer. The vintage instruments where used to give each arrangement its own unique "Darkwater" soundtrack. The whole combination of making from 14 different stories one theme in music and arrangement, together with all the things around this project, made that it took over 3 years to finalize the album. Dark Water is a metaphor for fear. Fear for the unknown. The kind of fear that wakes you up in the middle of the night all sweaty and distressed and let you ask that question " What is all waiting for me under the Dark Water?" . In 14 different stories this tale is told. And every time you listen to these personal songs they reveal a new secret that lay buried under the Darkwater that everybody knows so well.
Listen : Hammond B3 , slide guitars, great harp playing, strong songs in vary styles.
Playlist:
4:07

5:07

6:16

4:28

4:43

5:30

5:27

4:56

3:54

5:54

4:46

3:18

4:17

3:49