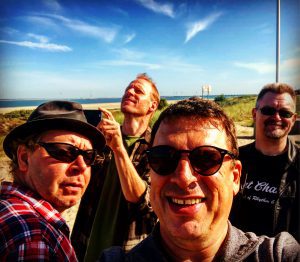 Americana band from Finland formed in 2005 by singer songwriter Walter Rootsie from Amsterdam, Holland. A Dutch core in a Finnish roots band. The other members are from Finland.
Walter Rootsie and his Blue Connection is an esteemed live band, playing a divers set of own songs. Playing homemade singer songwriters songs from a musical blender with pop, country, folk, jazz, rockabilly, blues, rock influence with their own sound.  You hear Finnish tango, intimate story ballads, heartland rock songs, Voodoo swamp adventures and other divers songs and sounds. Band members have an experienced background in Blues, jazz, roots and rockabilly bands. They sometimes invite guestplayers to join their concerts or tour.
Band is performing in vary of venues because of their extended and various repetoire. They perform in concert halls, bars,  cafe's or restaurants of all sizes, special venues, home concerts. They can play full swing with guestplayers or more modest or unplugged when smaller venue requires for example. Also the choice of the evening can be variating; Americana with the mix of all sort of (roots) music or more explicit blues songs. Very flexible to book.
Made several albums. Had with their track "Forget your name" from the  album 'Get Up And Go' a number one hit for 7 weeks at the worldwide internet radio station Mixexposure.com in 2007.  With their latest album "Dark Water" a successful worldwide release. A lot of airplay and high in the Americana top ten lists of all kind of radio stations worldwide the hit single " Running Down Slow". This album got good and highly acclaimed reviews from international press and also been played throughout the world at roots and blues radio stations who have put them at their station playlist top ten.  Regular added at Spotify rootsmusic playlists worldwide. "Dark Water" album was for example 3 months at top ten playlist of Goethe Radio, Austria , Hifi City Radio, Hungary , Roots Radio Italy and many more. On board of Lufthansa airplanes in the best roots playlist.
Band:
Walter Rootsie: Lead vocals, acoustic guitar, electric guitar, harp, percussions
Anssi Lehtivuori: Drums, percussions, acoustic guitar, keys, backing vocals
Jan 'Smedu' Smedberg Bass guitar, Standing bass, backing vocals
Pasi "Parska"Saharinen: Electric guitars, slide guitar, dobro, belly dancing